Growing Local is Growing Fast
This article was in the August 2nd, 2021 Herald and NewsWritten By: Alexandra Feller / Photo By: Arden Barnes – Report for America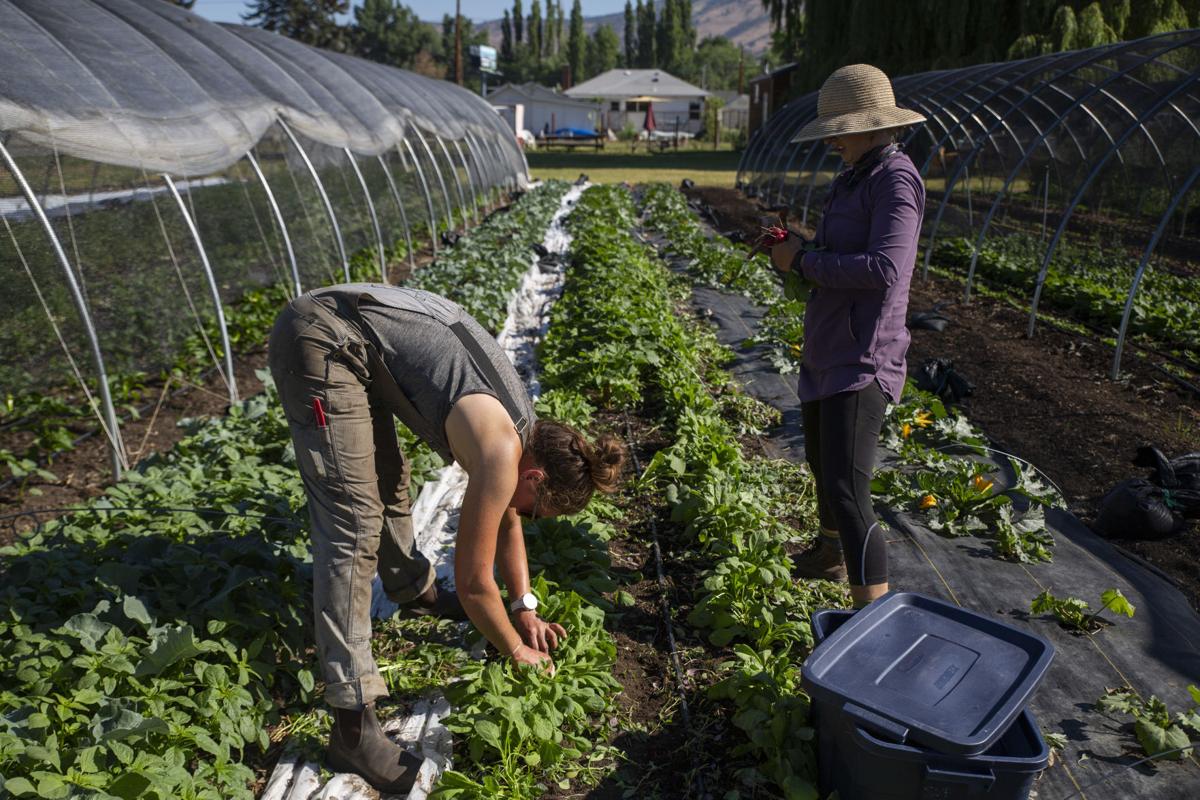 Community supported agriculture is sweeping the farming industry, and the trend has already reached Klamath Falls.
This style of farming and distributing is a consumer-led initiative to encourage sustainable farming practices, as well as the local, direct exchange of produce between farmer and consumer.
Sweet Union Farm in Klamath is a small-scale, community-supported urban farm that brings fresh produce to families and restaurants around the basin.
"It's stressful, it's hot, but there is just nothing else I would rather be doing," said Katie Swanson, the farmer behind the operation.
Swanson said that even on the worst days, she enjoys farming more than her past jobs.
Swanson is a former high school Spanish teacher who found her passion for growing vegetables.
During summer breaks in between teaching, she interned on farms to learn the trade. Swanson was inspired by the number of female farmers she saw, and grew increasingly interested in food equity and sustainable agriculture.
She started Sweet Union Farm five years ago on a one-acre plot of land behind her house. It has since expanded to an additional third and fifth of an acre on property that Swanson leases.
For Swanson, the business is about more than just growing vegetables.
"Farming brings together so many different parts of things that I love and things I'm good at," she said. "That's why I wanted the word 'union' in my farm. This is a union of all these things I believe in."
Community farms like Swanson's are usually located near urban areas and require intense community collaboration to connect people to vegetables. They participate in a farming distribution model called Community Supported Agriculture, or CSA, which is utilized by farmers around the world. The model is meant to connect consumers with local produce.
Swanson has around 70 CSA members who purchase shares in her farm at the beginning of the growing season which lasts 20 weeks starting in late May and ending in mid-October when Klamath starts to experience frost.
Throughout the harvest, members receive fresh produce directly from the farm.
"People receive between five to ten different items every week, with a recipe," Swanson said.
Swanson had a waitlist of people hoping to participate in the program, even after she was able to add 30 new customers this year.
Many CSA-affiliated farms saw an increase in popularity during the pandemic, as the worldwide supply chain was disrupted, and an emphasis on buying local changed many consumer mindsets.
But Swanson's farm was popular even before the pandemic.
"There's not a lot of stuff like this happening in Klamath Falls, so people were immediately super interested," she said.
In 2018, Klamath and Lake counties conducted a food assessment to determine which members of the community were lacking access to fresh foods. Swanson was working for the Blue Zones Food Systems Committee at the time and collaborated on the report. The report found "a lot of people that do not have access to fresh food, fresh, healthy food." she said.
According to the Community Food Assessment, in 2016 the food insecurity rate in Klamath County was around 15%. This was higher than the rest of the state and indicates limited access to quality affordable food for some individuals. "It's always a tricky balance. Being a business owner, and especially being a business owner of a small-scale vegetable farm," she said.
Swanson created a fund to support anyone who cannot afford a CSA membership, but wants to join the Sweet Union Farm CSA.
"I don't want any barriers to this… everybody deserves really high-quality, nutritious food," she said.
So far, Swanson has been able to provide scholarships to patients learning how to cook at the Sky Lakes Wellness Center, and she also has a program with the Klamath Tribal Health and Family Services.
"I feel like Klamath is a really tight knit community, and I think people are really willing to help each other out," she said.
Swanson's initiative to spread access to food does not stop at her CSA. She collaborates with a group of farmers to help supply and run the Klamath Farmers Market Online (KFOM), which saw a boom in growth due to closed restaurants during the pandemic. KFOM has the same goal in mind — to increase access to local produce.
KFOM gives both farmer and consumer more control over how they get their produce. Consumers can choose which farmers they want to buy from, and at the farmer can "post what they want to post, and if they don't have anything then they don't post it," Swanson said.
The farmer wastes less food because they know exactly how much of their product is bought each week.
"There's a lot of really good things about the collective effort to it," she said. "When, when one vendor is doing well on KFOM that means the other vendors are getting exposure."
She said the community of local growers that is popping up makes her optimistic about the future of the industry. The size of Klamath Falls makes it easier for people to work together to get their footing.
"I found it so easy to collaborate here," said Swanson. "There's just so many like projects and things that I've done with other like people in organizations that I couldn't have done in Portland."