KCC Breaks Ground on Apprenticeship Center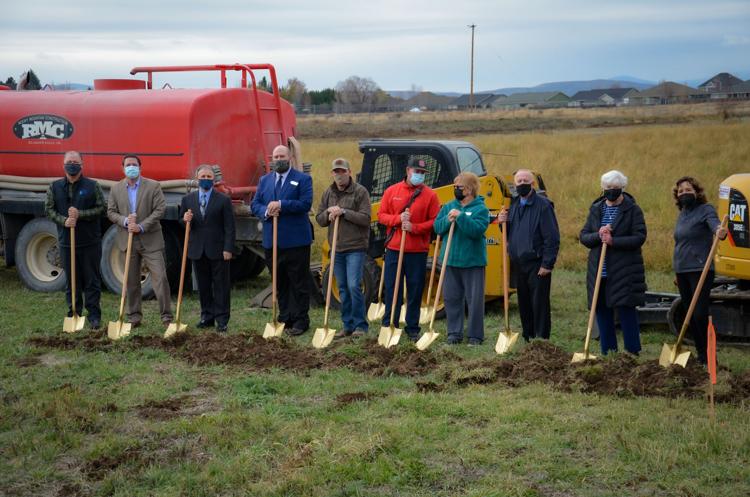 Klamath Community College celebrated the construction kickoff of the school's Apprenticeship Center with a groundbreaking ceremony Wednesday.
The 32,000-square-foot building is slated to open in fall 2022.
"The workforce education opportunities provided in the Apprenticeship Center will improve the local economic outlook and attract businesses that pay middle-class salaries," said KCC president Roberto Gutierrez.
The Apprenticeship Center will span four acres and will provide space for hands-on training and programs for transitioning high schoolers, increase the college's career-technical program offerings and offer specialized structural and wildland fire science training.
Apprenticeships will include: electrical, millwright, plumbing, pipefitter, machinist, carpentry, cement mason, drywall, interior and exterior painter specialist, and sheet metal fabrication, including HVAC.
Students enrolled in fire sciences and emergency medical operations programs through an Apprenticeship Center fire academy will gain real-world experience training in an exterior fire yard and fire tower.
Construction is funded by a $3 million U.S. Economic Development Administration grant, a commitment of $3.9 million from the Oregon Higher Education Coordinating Commission, grants from a number of regional foundations, private contributions, and an institutional obligation of resources by the KCC Board of Education.
Steve Tippin, chair of the KCC Foundation, said in 2022 the KCC Foundation will launch a capital campaign to raise funds to fill the center with equipment and technology that will allow instructors and partners to provide state-of-the-art programming for students enrolled in Apprenticeship Center courses.
"Our fundraising must continue to fully outfit the center with the tools and technology that will help our students be successful in the workforce," Tippin said. "I know this community will step forward and help us finish this project."