Experience Year-Round Livability
Peaceful Pace of Life
Klamath Falls is a five-hour drive northeast of San Francisco and five hours south of Portland. But unlike our metropolitan neighbors, who we love to visit now and again, Klamath Falls is surrounded by wilderness, and topped with clear blue sky. Out here the only rush-hour we have is on a zipline. Traffic jams? The only jams we have are outdoor band jams, like those downtown throughout the summer, and the kind of jams we eat–marionberry and jalapeno are local favorites. There's also a whole lot of quiet. Except when the F-15 jets fly in and out of Kingsley Field, home to the Air National Guard's 173rd Fighter Wing where they train the best air-to-air combat pilots and flight doctors. When we hear jets, we hear the sweet sound of service.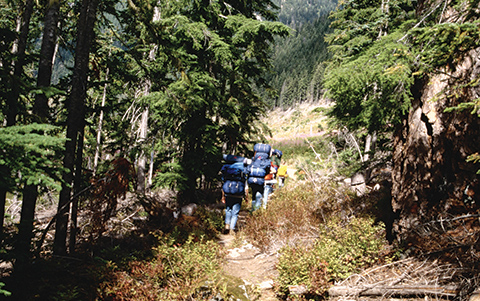 Active lifestyle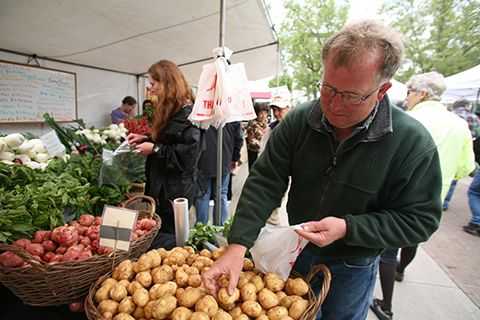 Klamath Falls hosts Wednesday and Saturday Farmers Markets in Summer


A Proud Blue Zones Community
In 2015, Klamath Falls was chosen as a Blue Zones Project demonstration community, investing in our community's well being by making healthy choices easier in our everyday lives. Inspired by research about places that have the highest concentrations of people who live to be 100+ years-old, we have, as a community, decided to make systemic changes that will help us live longer, lower our healthcare costs, and improve our productivity. We have set our sights on reducing obesity, smoking, stress, and medical costs, while increasing daily physical activity, eating better and investing in relationships. Healthy Klamath now leads the effort to spearhead changes built into our environment and social networks, including schools, worksites, restaurants, grocery stores, neighborhoods and faith-based organizations. Klamath was chosen as a Blue Zones location because of our potential for improvement, as well as our civic leadership and community-wide readiness to participate. Because of the hard work and collaboration of the community, in 2020, Klamath Falls became the first Certified Blue Zones Community in the Pacific Northwest.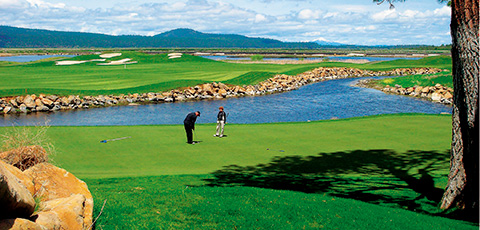 The Running Y Ranch – One of Oregon's premier golf resorts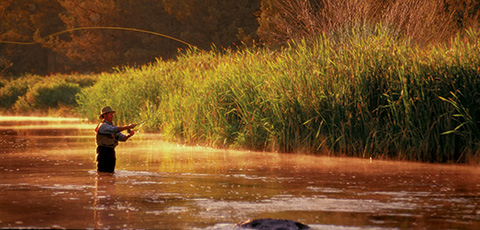 World class fly fishing on the Williamson River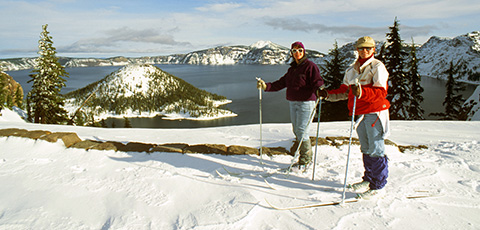 Cross country skiing at Crater Lake National Park
Fun in Every Season
Klamath County is known worldwide for outdoor recreation all year long.
Cold Weather Activities
In winter we enjoy cross-country skiing, snowshoeing, snowmobiling, ice skating, world-renowned duck and goose hunting, sledding, and annual events like the Snowflake Festival and Winter Wings Festival.
Warm Weather Activities
During our pleasantly warm summer months sailing and paddle sports abound, along with cycling, trolley rides, farmers markets, air shows, and baseball at one of the last remaining historic wooden baseball stadiums still in use today. It seems the whole town gathers downtown for Third Thursdays where businesses set up on the sidewalks and music and food fill the air. We're known for lighting it up on the Fourth of July for the annual fireworks display. Year-round recreation facilities include Steen Sports Complex/Mike's Fieldhouse, YMCA, and the geo-thermally heated Ella Redkey Pool.
We're surrounded by wilderness for endless opportunities for camping, hiking, fishing and hunting. Klamath County also delivers some of Oregon's deepest blues, longest zips, and most sought-after fishing.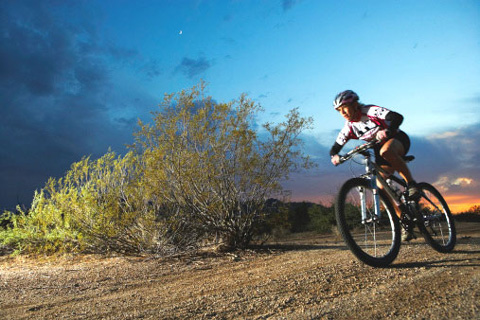 Hiking and Biking Trails
Moore Park located on the southern shore of Klamath Lake, the Ridgeview Trail overlooking the Upper Klamath Lake, the Link River Nature Trail along the historic Link River, and the Wing Watchers Nature Trail along Lake Ewauna connect approximately 5 miles of easily accessible nature and hiking trails within the city limits of Klamath Falls. The OC&E Woods Line State Trail, a 100-mile rails-to-trails conversion is paved from downtown Klamath Falls through the suburban residential area to the small rural community of Olene. The Foothills bike and walking path is Klamath Falls' newest trail. For day hikes and mountain biking within a short drive, head to the Mountain Lakes Wilderness, Sky Lakes Wilderness, Pacific Crest Trail, Lake of the Woods Trails, Mt. McLoughlin Trail, Mt. Thielsen, and much more.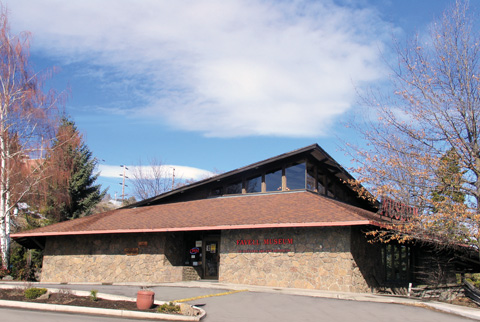 Favell Museum
Klamath County Museum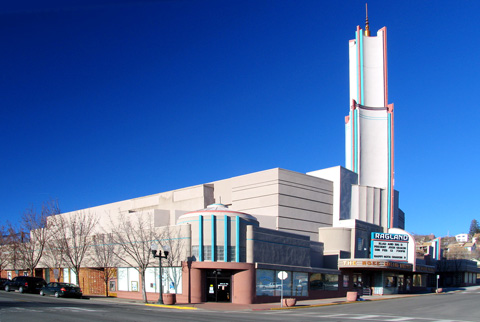 Ross Ragland Theater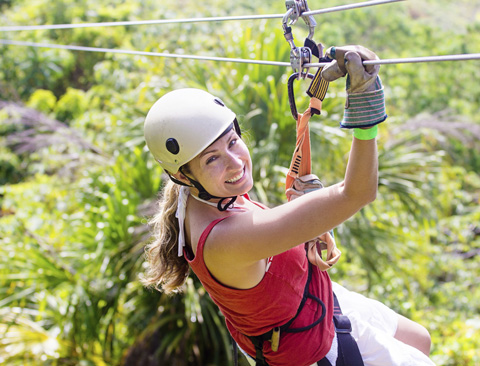 Crater Lake Zipline
Cultural Attractions
Museums: Klamath County features six museums and two performing arts venues. Favell Museum Collections on display include Western Art and artifacts including Native American objects, paintings and sculpture by contemporary artists. The Klamath County Museum hosts the largest collection of antiques, archives and artifacts in the county and is housed in an art deco building that was once the National Guard Armory.
Baldwin Hotel Museum Features 40 rooms filled with antiques from the turn of the century, giving visitors a chance to step back in time to Klamath's boomtown days. Fort Klamath Museum was established in 1863 as an Army outpost, and today is preserved as a snapshot in time of the frontier days of early American life and Modoc War artifacts. The Collier Logging Museum and Park features a beautiful campground on Spring Creek and the Williamson River as well as a unique outdoor museum of historic logging equipment, a relocated pioneer village. The Children's Museum of Klamath Falls is a hands on museum, bringing exhibits to kids and teens in the community, and also provides banquet facilities for events and parties.
Performing Arts: The Ross Ragland Theater is a 750-seat, multi-cultural performing arts center that attracts a wide array of touring performing artists and accommodates numerous local productions. The Linkville Playhouse is a 131-seat venue for an active, non-profit community theatre group called the Linkville Players.
Attractions and Facilities
The caldera at Crater Lake National Park the deepest lake in the United States (1,943 feet) and often regarded as the bluest and most spectacular. Located within Klamath County, Crater Lake National Park sees about a half-million visitors every year.

Crater Lake Zipline Experience the thrill of Oregon's longest zipline and the only tree canopy zipline on Forest Service land. With nine zips, two sky bridges and two rappels, this three-hour tour will show you the Fremont-Winema National Forest in a truly unique way—from treetop to treetop.

Bill Collier Ice Sports Arena is a regulation sized outdoor ice rink covered by a tensile fabric roof, open late October through March.

The Ella Redkey Pool is a year-round geothermally heated community pool.

Kiger Stadium is the oldest wooden baseball stadium still in use this side of the Mississippi. This beautiful facility is home to the Klamath Falls Gems, a collegiate summer wooden bat league. Kiger Stadium hosted the 2015 Babe Ruth World Series.

Klamath Yacht Club celebrates the fact that Klamath Lake is listed by Sailing Magazine as one of the 10 best sailing lakes in North America.

Steen Sports Park features indoor and outdoor soccer fields, baseball and softball fields, playgrounds and a skateboard park.

Golf: Klamath County offers four public golf courses: Running Y Ranch Oregon's only Arnold Palmer designed course; Harbor Links and Tennis Club; Shield Crest Golf Course; Indian Camp Golf Course