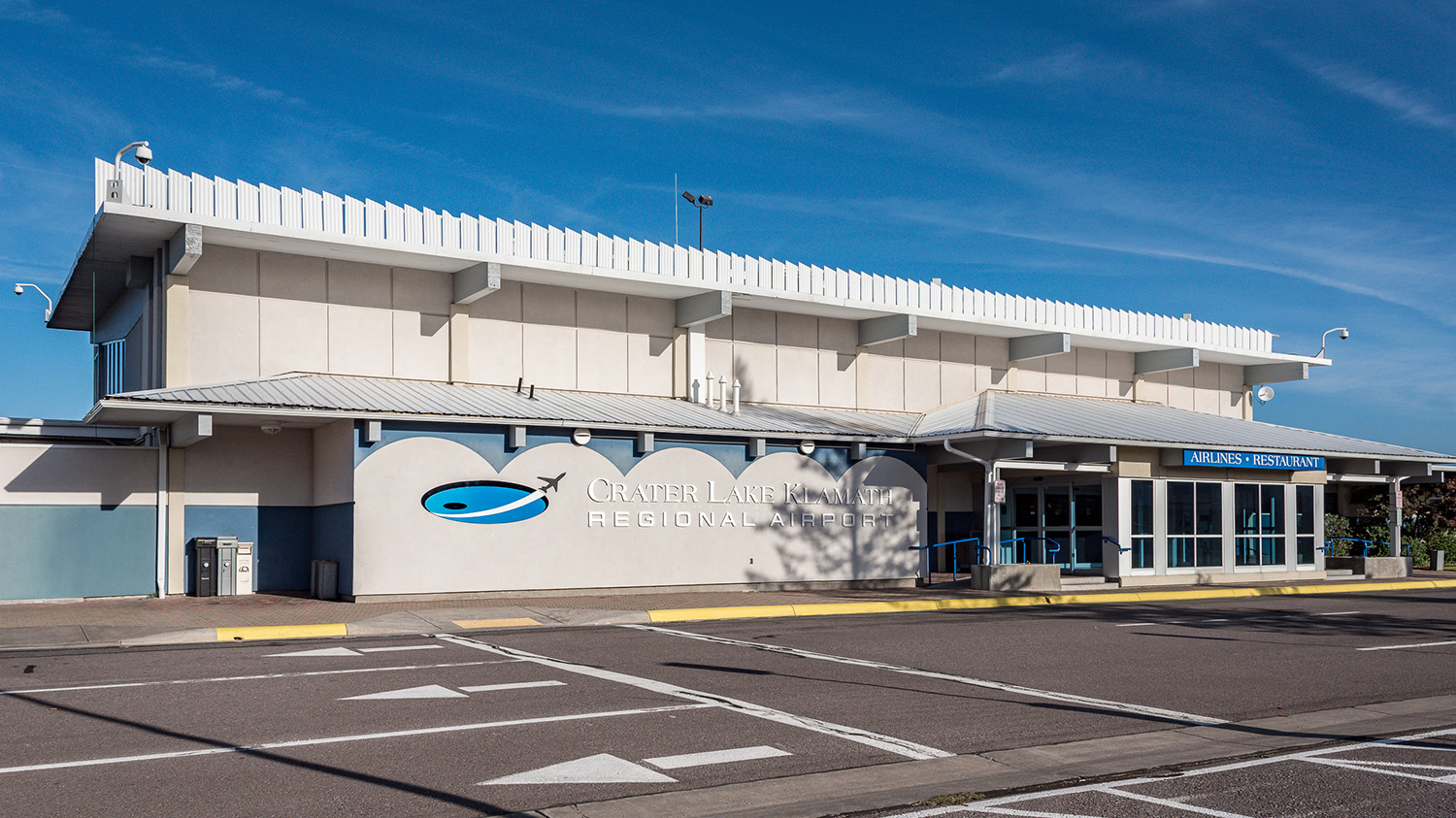 Closest Airport to Klamath Falls, Oregon
The closest airport to Klamath Falls, Oregon is the Crater Lake-Klamath Regional Airport located just five miles southeast of downtown Klamath Falls. The airport is strategically located halfway between Portland, Oregon, and San Francisco, California on the east side of the Cascade mountains. The airport has two runways (10,301′ and 5,260′), a control tower (attended 7 a.m. – 10 p.m. PST), and on-field services including fueling, ramp space, maintenance, and repair. The local airport is home to the Oregon Air National Guard 173rd Fighter Wing, recently chosen as an elite F-15EX training base, as well as a U.S. Forest Service Tanker Base, helicopter and fixed-wing flight schools, and cargo operations. The Airport has developable land for both aviation and non-aviation uses with most parcels already having on-site utilities that include electricity, water, gas, sewer, telephone, and fiber optics.

Crater Lake – Klamath Regional Airport has been serviced over the years by various airlines including United Express, SkyWest, Horizon Air, and PenAir. While there aren't any commercial airlines currently serving Klamath Falls, private and corporate flights are welcomed. Klamath Falls is a popular airport for fixed-wing flight training, scenic tours, and recreational flying as well as executive business travel. There is a restaurant located upstairs in the airport terminal building and free parking for visitors. Other restaurants and lodging are available in Klamath Falls.

If you're looking for a flight into or out of the Klamath Falls area with commercial flight availability, the Rogue Valley International Medford Airport is less than an hour and a half away from Klamath Falls and provides direct flights to 13 destinations such as Portland, Salt Lake City, Denver, San Francisco, Phoenix, Seattle, Los Angeles and more. When compared with the commute times of larger metropolitan areas and the challenges of getting to and parking at a larger airport, many find the drive from Klamath Falls to the Rogue Valley International Medford Airport a minor setback.
The drive over Highway 140 offers the opportunity to unwind and enjoy the wild beauty of Southern Oregon. During the drive, visitors can stop to get a bite to eat at Rocky Point Resort or Lake of the Woods Resort, both of which have excellent Pacific Northwest Cuisine. Also along the way is the Crater Lake ZipLine and ropes course, which is open for outdoor adventure from March – December each year. Make the most of the trip with a scenic drive, a great meal, and maybe an adventure or two.
Airlines that Fly In and Out of Klamath Falls
Century Aviation, located at the Crater Lake – Regional Airport, offers charter services with both fixed-wing and helicopter services. They can customize the trip for business or private trips, and provide aircraft management services for those interested in keeping their aircraft at the airport.
The Rogue Valley International Medford Airport provides services for multiple airlines in and out of the area. Commercial airlines include Alaska Airlines, Allegiant, Avelo, American Airlines, Delta, United, and Aha! Travel can be easy in and out of Klamath Falls, Oregon with multiple airline services provided at the nearby airport in Medford. An added bonus: Medford's airport is easy to navigate. Finding a parking space, checking in, and getting to your flight on time, are more enjoyable than major metropolitan airports such as LAX, Chicago-O'Hare, San Francisco, Denver, or Phoenix.
Airline Travel Tips When Flying In and Out of Klamath Falls
Because the closest airport to Klamath Falls has only a certain number of destinations, it's important to be able to easily navigate between the connecting larger airports. For example, try to pack as smart and small as possible since you could have multiple connections and go from smaller to larger aircraft. While this is the case, airline travel tends to come with experience and with the nearby airport location, living in Klamath Falls gives the best of both rural and metropolitan living.
Highway and Rail Travel
Highway 140, Highway 97, and Highway 39 converge at Klamath Falls, making Klamath County a hub for transportation, and an easy jumping-off point for getaways to Portland, Eugene, Bend, Medford, Oregon Outback, Boise, Reno, and of course California. All three highways are well maintained throughout the year, making road trips an excellent option for vacationing and business travel.
While being out on the open road is certainly an enjoyable way to unwind and take a break from the hustle and bustle of daily life, travel enthusiasts are also happy to find that Klamath Falls is serviced twice daily by the Amtrak Coast Starlight route that runs between Los Angeles and Seattle. So, whether you choose to travel by train, plane, or automobile, you're sure to find a mode of transportation that suits your style and speed.