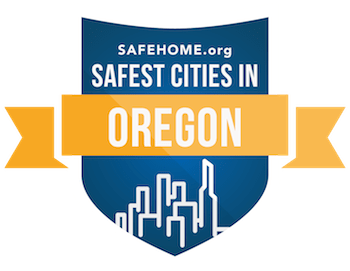 KLAMATH FALLS CRIME RATE
The overall crime rate is calculated from FBI crime data based on two categories, violent crime and property crime occurrences reported per 100,000 people. The overall crime rate in the state of Oregon is lower than the national average but property crime in Oregon tends to be higher than the nation's average. By comparison to other Oregon cities and counties, reports regarding Klamath Falls crime rate can be misleading as each municipality adheres to their own respective assessment standards and how they present that information. As a result, these subjective methods often distort the true state of crime in communities when examined side-by-side with other communities referring to alternative methods of measuring their rates. The nation at large has scattered forms of standardization, making it difficult for individuals to understand the true safety of a community.
What people come to learn upon visiting or moving to the region is, in reality, Klamath Falls' crime rate follows the same trend most Oregon communities encounter in that the majority of crime is attributable to property crimes rather than violent crimes. In addition, according to SafeHome.org, the property crime trend in Klamath Falls is continually declining over recent years.
One of the Safest Cities in Oregon
Along with the year-round activities in Klamath Falls, Klamath Falls is ranking on multiple lists as one of the safest cities in Oregon. The SafeWise home security company is ranking Klamath Falls as the #35 safest city in Oregon and the similar company SafeHome is ranking Klamath Falls at #15 with a high safety score. For reference, both lists rank Klamath Falls very closely, if not above, the popular University of Oregon Eugene city location.
Best Neighborhoods in Klamath Falls, Oregon
When considering a move, the overall crime rate is an important factor, and ranks high on the list of concerns, and is nearly as important as factoring in the amount of sunshine per year, and overall well-being of a community. Certain areas of any city may be more apt to higher crime that others. In that sense, there are friendly neighborhoods in and around Klamath Falls that are popular and safe, including Pacific Terrace and Running Y. Pacific Terrace and it's surrounding area have many charming homes, and offer a wide variety of home sizes and prices. Many residents find Pacific Terrace an excellent fit because of it's proximity to the local hospital, a 4-year university, and is within walking distance to downtown Klamath Falls. Others relocating to the area find the Running Y and RidgeWater developments an excellent fit. Each are located on the outskirts of town, with established Homeowners Associations, a trail network, and an abundance of wildlife. Running Y additionally has it's own market, shops, restaurants, and fitness center. Those considering a move to Klamath Falls are sure to find a neighborhood to fit their lifestyle, whether in Pacific Terrace, Running Y, RidgeWater, or perhaps another area such as Lynnewood, North Hills, or Pine Grove.
Safe neighborhoods are a sign that people care about their community and are interested in keeping it crime-free, and there are several residential areas through Klamath Falls which offer a worry-free living environment for individuals and families to take full advantage of, in large part, due to the efforts of local police officers to act as community partners and a strong sense of community pride among residents. In Klamath Falls, you get to take comfort in the sound of kids playing outside, as local residents collectively take great pride in giving children a true "small town experience" by championing practices which ensure constant safety no matter the neighborhood adventure taking place. The local neighborhoods personify the warm, inviting spirit of Klamath Falls residents and their way of life, regardless of where you are located within the city. Neighborhoods throughout the community have been ideally designed to offer a wide variety of recreation options for all ages, with easy access to playgrounds, parks, neighborhood markets, hiking trails, biking trails, and more….and all a stone's throw away!
Local Police Resources
Strategic improvements to County and City police forces contribute largely to these improvements, allowing for Klamath Falls to truly capture the idiosyncratic magic of being an outright wholesome and safe rural community. The Klamath Falls crime rate is a top priority for the local Klamath County Sheriff's Office and the City of Klamath Falls Police Department. It is their priority to safeguard the lives and property of the residents in Klamath County. The police team continually works to improve the quality of life by reducing not only the number of crime incidents but also reducing the overall fear of crime in the area. In addition, both City and County law enforcement work closely with local agencies to position formerly incarcerated individuals on positive pathways that enhance their physical, mental, financial, and spiritual health in enduring ways, setting the stage for crime rate improvements to occur through generations.