KCEDA & Local Investors Receive Prestigious Award for KRF Housing Fund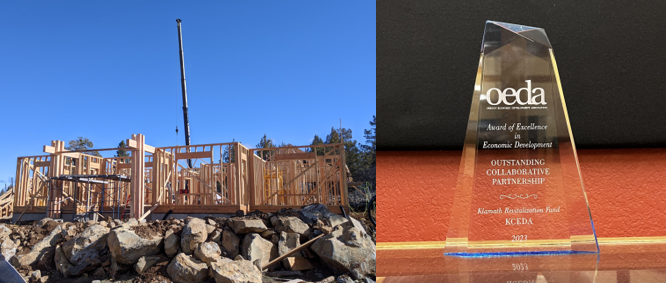 Klamath Falls, OR (October 26, 2023) – Earlier this month, the Klamath County Economic Development Association (KCEDA) received the prestigious "2023 Outstanding Collaborative Partnership Award" on behalf of the Klamath Revitalization Fund (KRF). This award was presented by the Oregon Economic Development Association (OEDA), providing state-wide recognition to the local organization for their role in forming creative partnerships, which have supported remarkable results in economic development. OEDA selected the award based on KCEDA's role in helping create and manage the KRF with People's Bank and a group of local investors.
The KRF is an Evergreen fund that was created in 2021, providing capital to local contractors to help develop homes in the face of a regional housing shortage. The program functions by  funding contractors for construction loans in partnership with Peoples' Bank for the construction of attainable homes within Klamath County.
With community collaborations at the forefront, and the ability to continually fund home builds, many across the state are seeing the KRF as a sustainable model which can be replicated to address community housing needs statewide. KCEDA's desire for developing the KRF program was inspired by the need to accelerate housing starts within Klamath County in order to keep up with increasing demand in the regional economy, supplement or city's housing stock and to encourage and promote training and development of the trades sector workforce within our community.
Randy Cox, CEO of KCEDA, spoke about the fund and what the recognition means to the economic development organization, stating, "For a few years now we've known that a housing shortage was going to be an issue we were going to have to overcome, triggering us to create this innovative solution to help overcome the lack of housing effecting our economy. There's still a long way to go, but we are making progress. The OEDA recognition is a testament to our partners really – with Klamath County, People's Bank, and the investors participating in the fund stepped up to help KCEDA create a program that could tackle this issue, and it wouldn't exist if not for their involvement. Housing which is both available and attainable is a vital component of a thriving community".  In addition to Cox's comments, KCEDA Project Manager, Julie Matthews, spoke about the future of the fund, saying, "We are looking to include more contractors in the program and encourage interested contractors to reach out to KCEDA."
According to statistics provided by KCEDA, the fund have built or under construction 14 houses with an investment of over $4.5M in the past year and is on pace to continue this trend.  
 
About the Klamath County Economic Development Association (KCEDA) – Since 1975, KCEDA has reflected the best of private enterprise, responsibility, and dedication. Its mission is to provide tailored recruitment and business retention/expansion programs, new opportunities for jobs, and a diversified, value-added industrial base/expanded economic development climate in southern Oregon. To learn more about KCEDA and how they can help you, please visit their website, www.ChooseKlamath.com, or contact their offices at 541-882-9600.