Klamath Basin Oktoberfest is Back!
Annual brewing event returns to the basin in full form and is anticipated to be an experience not to miss out on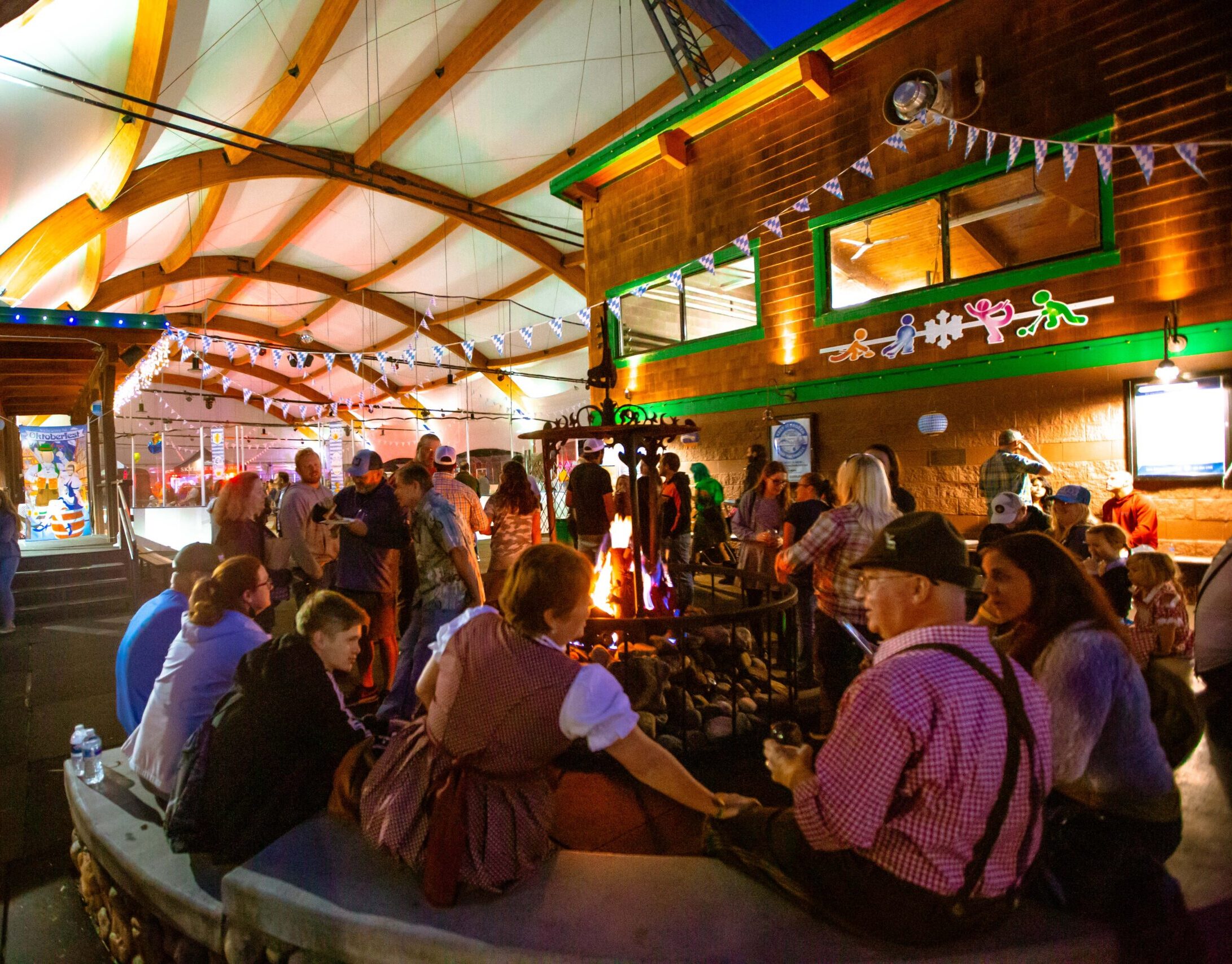 Photo (Left): People gather around the fire pit at Bill Collier Ice Arena, enjoying custom microbrews at the 2019 Oktoberfest as it enters evening hours.  
Klamath Falls, OR (June 22nd, 2022) – After a two-year absence, the long-awaited Klamath Basin Oktoberfest is back! No matter if you want to wear lederhosen or Levi's, what's for certain is you won't want to miss this festival come this fall. Following a two-year absence, the Klamath County Economic Development Association (KCEDA) announced today that it would be resuming the instant tradition in its full scope, something the event-host has been unable to do since the festival was first introduced in 2019. The 2019 event had groundbreaking attendance, attracting over 2,500 people, representing a welcome mix of residents and travelers from regions throughout the West Coast.
Located at the Bill Collier Ice Arena on the Running Y Ranch & Resort, the event will take place on Saturday, September 17th from 2pm to 9pm. As a regional gathering, The Klamath Basin Oktoberfest is designed to bring the community and tourists together to celebrate the remarkable brew, food, and entertainment options that exist right here in Southern Oregon. In addition to the many notable vendors participating at the event, there is also a wide selection of family-friendly games and activities for people of all ages to enjoy.
After being awarded a Klamath County Tourism grant, KCEDA staff is currently underway with event preparations.  KCEDA CEO, Randy Cox, discussed the return of the event, stating, "Our original goal in 2019 was to make this event a showcase of Klamath County, presenting visitors a chance to really experience the assets, culture and people which make up our county. And we would not be able to proceed with bringing this experience to life though without the support of the County Commissioners and our many sponsors. I encourage people to mark September 17th on their calendar and pre-order tickets; this is a special experience we are confident people will want to take part in. "
Representatives at KCEDA additionally noted that more details about event specifics would be released as the event date gets closer.
New to the event in 2022, is shuttle service from Moore Park's Marina via the Linkville Trolley. For more information, including details on pre-sale tickets, volunteer information, parking, and more, please visit https://klamathoktoberfest.org/ or check the Klamath Basin Oktoberfest's social media pages for regular updates surrounding the event.
Sponsors for the 2022 Klamath Basin Oktoberfest include:
Fairfield Inn by Marriott
Swan Lake Energy
Collins Products
Fisher Nicholson Realty
Pacific Power
Resource Environmental Solutions (RES)
Cora Christ Country Financial
The Ledge
Bullet Rental Sales
Winema Electric
Discover Klamath
Running Y Ranch & Resort
Wynne Broadcasting
Oregon KLAD 92.5
 
About the Klamath County Economic Development Association (KCEDA)
Since 1975, KCEDA has reflected the best of private enterprise, responsibility, and dedication. Its mission is to lead economic development and diversification of Klamath County through targeted recruitment & attraction, business retention & expansion, small business development and entrepreneurship. learn more about KCEDA and how they can help you, please visit their website, www.ChooseKlamath.com, or contact their offices using the information below.